What our clients think
Clients: Iva Stanić
Clients: Ljerka Kramarić-Car
Clients: Petra Bulić
Clients: Marija Knežević
Clients: Ivan Matijašević
Clients: Anamarija Kotrman
Clients: Ivana Matančić
Currently I live in Croatia and in the search for rental apartments in the city of Zagreb, I decided to hire DOMUS real estate agency, which was highly recommended by a business partner. After my first visit to their office, I became acquainted with the current offer of apartments in Zagreb's market, I was already a lot easier about my choice. Simple and accurate communication, competence and flexibility are features that I personally experienced and felt. All parts of our contract are met accurately and on time, and the whole process of renting an apartment passed pleasantly and smoothly.
Clients: Roberto Soldo
I have been collaborating for many years with the agents from the real estate agency DOMUS with whom in the last five years I have achieved cooperation in buying, selling and renting of properties. On this occasion I want to thank you for the effort, time and hard work in continuous finding of a suitable tenant / buyer for my property. Speed ​​of implementation, the expertise of agents, the ease of communication that I earn with them and trust that we have built a guarantee of the continuation of our long-term cooperation.
Clients: Božo Mandić
I would highly recommend the DOMUS agency to anyone who intends to buy a flat. Throughout the whole process I felt that the client is most important to the Agency and one easily gets the impression that the client is the only one about which the agency currently cares. I would also pointed out that the manner and scope of service delivery are at a high professional level. Despite the professionalism one feels an enjoyable atmosphere in communication, as well as flexibility and a willingness to modify the schemes of business, in accordance with the circumstances.
Clients: Ljilja Spudić
Thank you so much Daniel. You worked very hard for us to find a nice flat for me. You were very dedicated and I greatly appreciate your hard work. I will use you in the future and recommend you to all my colleagues. I enjoyed working with you.
Clients: Benoit Knopper
Recently I sold a property in Zagreb employing DOMUS real estate as my agent. I was pleased to find their service courteous and professional during the entire period, from the initial phone call to settlement. I had previously listed my property with another agent but during the three month contract was unable to find a buyer. I was consequently most pleased to receive an acceptable offer on the property barely a week after employing the DOMUS team. I believe it was their large client base and knowledge that facilitiated a quick sale. I would recommend them to anyone selling property in the area.
Clients: Sendi Vejić
I would like to thank you for all your help in finding me my unit. Unlike many real estate agents these days, you actually listened to my requirements and returned my calls. I am extremely happy with my flat and will not hesitate to recommend your services to anyone in the future. If I am ever in the market to rent another property, you will be my first contact.
Clients: Eka Wiediyantiningsih
We would like to thank everyone at DOMUS real estate that they were able to strike the perfect balance of professional, consistent, respectful, informed, energetic and calm. We were first time home sellers and they made the whole process clear and smooth. They gave us a new image of realtors.
Clients: Mirko Kobasić
We were so pleased to finally rent our house and want to thank you for all your hard work. We made a great choice in real estate agents when we chose you as you always made an effort to communicate and gave us plenty of notice when potential vendors were coming to inspect our house. We felt very comfortable with you and felt confident that you could get us the best possible price for our house. We wouldn't hesitate to recommend you to anybody who is contemplating selling or buying and wish you all the continued success
Clients: Obitelj Marić
Special offer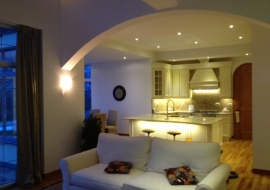 Zagreb, Gornje Prekrižje, villa for rent, 400m2
Send your review